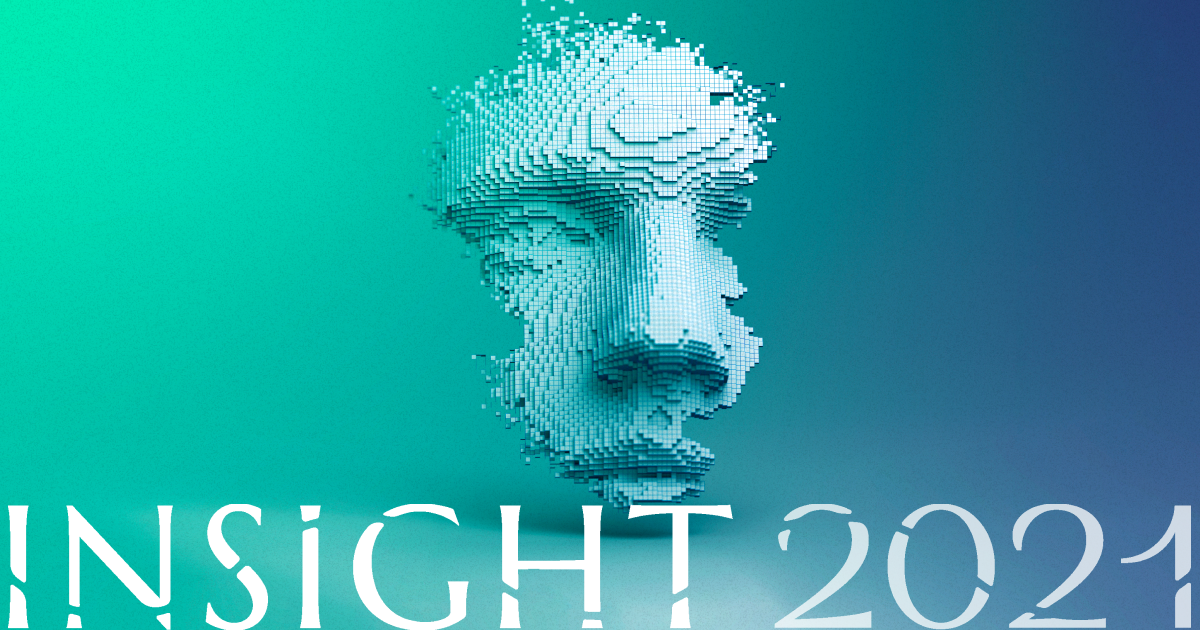 The INSIGHT Conference 2021 was held in Berlin, Germany on September 9-12, 2021, and streamed worldwide with over 1,300 attendees - psychedelic researchers, practitioners, leading experts from the psychedelic industry, and the interested public. The MIND Foundation organized and promoted the conference.
As the in-house Creative Design Manager at the MIND Foundation, I inherited two design assets (the logotype and a 3D rendering of a face, both shown above), from which I extrapolated and created the conference's visual identity, which I then used to design all digital, print, and merchandise event materials. 
Reflecting on the visual history of psychedelics, I sought to push beyond the typical rainbow and acid aesthetics and toward a clean and authoritative aesthetic in order to appeal to the mainstream public and serious scientific communities.
I sourced the three main colors from the original 3D face rendering. Based on team feedback, I added two complementary, accent colors as the event drew nearer to liven up the palette.
The typography was adopted from MIND Foundation brand to visually connect the conference to the event organizer. Marcellus provides a traditional and trustworthy feel, important for an emerging scientific community, and Libre Franklin is no-frills and versatile for print and digital material.
I created other brand assets, such as the wave, from the negative space in the original logotype. These variations are applied in both line and solid form.
VISUAL IDENTITY
BRAND STYLE GUIDE
SOCIAL MEDIA MARKETING GRAPHICS
MARKETING VIDEOS
STREAMING PLATFORM GRAPHICS
CONFERENCE EVENT BOOKLET (100+ PAGES)
MERCHANDISE: TOTE BAG + T-SHIRTS + MUGS + STICKERS + PENS + EYEMASKS + NAMETAGS
booklet, rollups, merchandise designs at conference